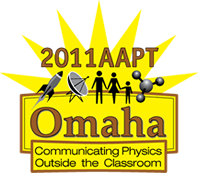 I just gave my invited talk at AAPT, on effective science communication.  The whole session was delightful — Becky Thompson from APS gave a rundown of the different types of evil geniuses portrayed in movies, Jacob Blickenstaff outlined the images of scientists in the Big Bang Theory, and Karen Williams looked at students' views of movies and scientists.  It's funny, because coming into the session I was thinking that it would be a rehashing of a lot of the same old messages — we're portrayed as geeks, whine whine.  But in fact there was a lot of thoughtful and careful analysis of just how physicists and scientists are portrayed.  Now I want to watch the Big Bang Theory, actually — even though Jacob pans its portrayal of physicists and women, there's a certain part of me that I find is drawn to that caricature.  Why is that?
So, here is a little bit of information about my talk:
The abstract:
Why leave it up to the "experts" (i.e., the media) to portray physics accurately and positively?  Speak for yourself, without the need for a translator who may – or may not – get it right.  As a scientist, you can talk about what your work means and why it's important with an authority that a science writer doesn't bring to the table.  While we can't all be Brian Greene, you can have control over how your work – and physics in general – is presented to the public.  In this talk, I'll share some best practices of science communication – gleaned during my time as a science reporter at NPR and elsewhere.    These simple tips can take a lifetime to master, but can help you get your message across – to the public, the media, and even Aunt Mabel.
My main points ended up being that:
We can't dump information into peoples' heads (the deficit model doesn't work)
We need to pay attention to the audience's needs and desires
Our negative prejudices about the public's knowledge of science has alienated them, historically
To have a clear message, we need to build from the familiar, avoid jargon, etc.
Many of the principles of good communication mirror the principles of good education.
We're really good at conveying facts — but there's more to life than accuracy
We want to hit people in the heart and the gut, not just the head.
Motivate them… then educate them.  You do want to convey the facts, but only after people care!
I plugged Randy Olson's new book quite heavily, Don't Be Such a Scientist: Talking Substance in an Age of Style

I really enjoyed this book, and its admonition to focus on more than just the facts.
Here is the slideshare of my talk, below: