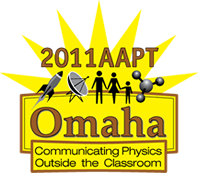 Again, I'm here blogging from the AAPT.  Ian Beatty gave a particularly lovely talk on clickers today, a very nice example of presentation zen at its finest.  I think he had perhaps 3 main points and 10 main visuals for a 30 minute talk.  Nicely done.  But professional ego stroking aside, I very much liked his overarching message, which is that he's not interested in giving us best practices, tips, and techniques for using clickers.  Rather, he wants to focus on the overarching principles of clicker use that help us to accomplish our goals in the classroom.  I do tend to focus on best practices and tips in my own presentations, and this thought gives me pause as to whether I ought to do some additional overarching framing as part of my presentations.  I do talk about the goals of clicker questions (borrowing heavily from Ian's work, actually), which is typically clarifying for teachers in my workshops, but perhaps some of this framing would be useful.
Here is his abstract:
Clickers are a powerful tool for classroom instruction, but like any tool, they may be used skillfully or clumsily, for more or less fruitful purposes. What purposes are fruitful? Why do some teachers give up, some muddle along, some succeed, and some entirely transform their teaching? Based on personal teaching experiences, mentoring of others, and several years of research with teachers learning to use clickers, we offer some hard-won answers to these questions. Clicker use is best aimed at supporting question-driven instruction, dialogical discourse, formative assessment, and meta-level communication in the classroom. How teachers frame classroom activity — their deeper attitudes, models, and professional thought habits — is the most important factor determining their results. Explicit, concrete yet flexible "question design patterns" for creating clicker questions and "pedagogical patterns" for using them in class help teachers avoid common traps, get unstuck from ruts, and take full advantage of clickers' potential.
So, what are the unifying principles according to Dr. Beatty?
Motivate and focus student learning with question driven instruction. Rather than teaching and then using question to see if they get it,  use the question to help them learn.
Develop students understanding and scientific fluency with dialogical discourse. You think you understand something until you try to put it into words.  It's not about the right answer, but the dialog to get there.
Inform and adjust teaching and learning decisions with formative assessment. The single most effective teaching technique is formative assessment.
Help students develop metacognitive skills and cooperate in the learning process with meta-level communication.
He also had some very nice example questions that he uses to promote student discussion and learning in his classes. Here is a link to his talk. His prezi is below.  Note that if you can navigate through the Prezi with the "play" button, and click on the small text on the example questions to get his meta-comments.   Very, very nice.
So, nothing hugely different from what I've been promoting, but framed in such a big-picture way that I found refreshing.  So, Ian, I take back my vote to the clicker question (I voted "6") at the beginning of your talk!  🙂 Yes, yes, I'm that cheeky….