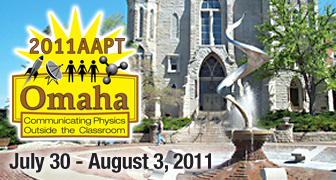 I'm at the AAPT meeting and will be posting a few liveblog posts during the week, as I have useful snippets.  Now I'm in the Free Physics Webtools session with Cathy Ezrailson.
One good use of the web is to collaborate with others in a shared space.  Obviously wikis and blogs are one way to do this.   I'm a huge fan of Google Docs for sharing documents among multiple people, but Cathy had a few more for us to check out.  Share your own here on the Wallwisher site that I created!
I also can't recommend enough using a course blog to manage your course, rather than creating a static website, for your university course.  I did this for my Light and Color course this summer and was easily able to post notes about assignments, exams, and other information.  Students didn't participate in the discussions like I had wanted, but it was still great.  This was just a free WordPress account.
Want to see more?  Check them out, and a bunch of other links, at the extensive (perhaps overly extensive) Google Doc she posted for the workshop.  Other items on that list are:
Online surveys
Online quizzes
Group calendars
Email listserv creators
Mindmaps online
Collaborative bookmarking